Alana's Unicorn
Nov 25, 2018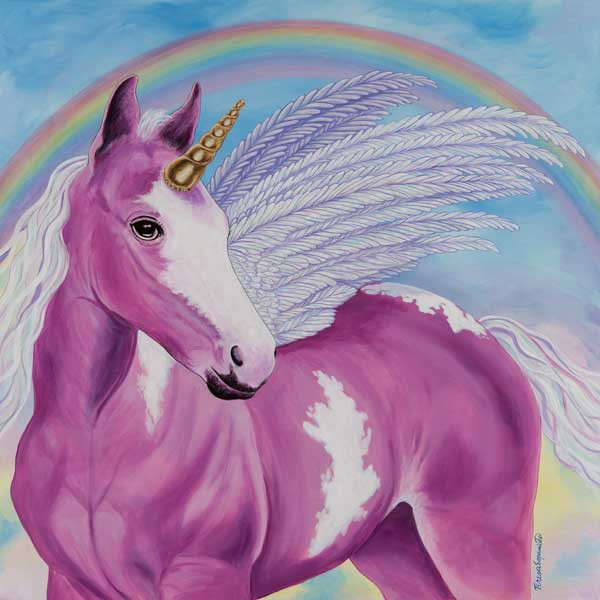 Alana's Unicorn
My daughter asked me to paint a winged unicorn with a rainbow in the background for my granddaughter's bedroom. The unicorn had to be pink, her favorite color, and I had to embellish it with glitter. Lots of glitter. There couldn't be enough glitter!
So, after I finished the painting, I gathered some glitter paint and had a whole lot of fun! When it was finished, I secreted the painting into their house, as it was a surprise. Her dad hung it above her bed and her mom brought her into the room. When she saw it, she screamed! That is how this particular 5 year old expresses her excitement. She loved it.

For those of you who like to do projects with young ones, you can embellish a print of Alana's Unicorn, too: Order a stretched or loose canvas print of Alana's Unicorn in whatever size you like (fine art paper, photo paper, and decals will not hold up to the extra paint). Use craft paint from Michael's or your local craft store.
This is what I used, but you can try any brand/color: DecoArt Glamour Dust Ultrafine Glitter Paint in ice crystal and magenta, regular glitter paint (the glitter bits are larger) in gold and Craft Twinkles crystal, which is multi-colored, and Delta Ceramcoat pearl finish. All of these craft paints come in 2 oz bottles and cost 2-3 dollars each. The glitter is suspended in a clear base and dries clear. It won't flake off. The pearl paint will coat over the colors a bit, but the colors will still show through.

This is how I used the glitter paint on my finished canvas: I painted over the unicorn's body with the magenta ultra-fine glitter, except for the white spots and face, which I painted with the ultra-fine ice crystal glitter. I used the Craft Twinkle crystal glitter on the mane and tail and also on the rainbow, which I then covered in the ultra-fine ice crystal glitter when the other coats were completely dry. I covered the unicorn's horn with the gold glitter. The wings were painted with the pearl paint and then coated with the ultra-fine crystal glitter. Always paint one coat at a time and let it dry before applying another coat. Have fun!

This project is great for a young person's birthday party or a gathering of friends. Each guest will have a piece of art to take home as a party favor! If you order 5 or more of these prints for a craft party, I am offering a 40% discount on loose or stretched canvas unicorn prints until the end of 2018. Just add the discount code UNICORN to your order! Or if there is some other painting from my website that you would like to embellish, give it a try! Order 5 or more for a craft party and add discount code UNICORN for the same 40% discount.
Thank you for reading my blog,
~Teresa