Art Collaborations
Nov 08, 2020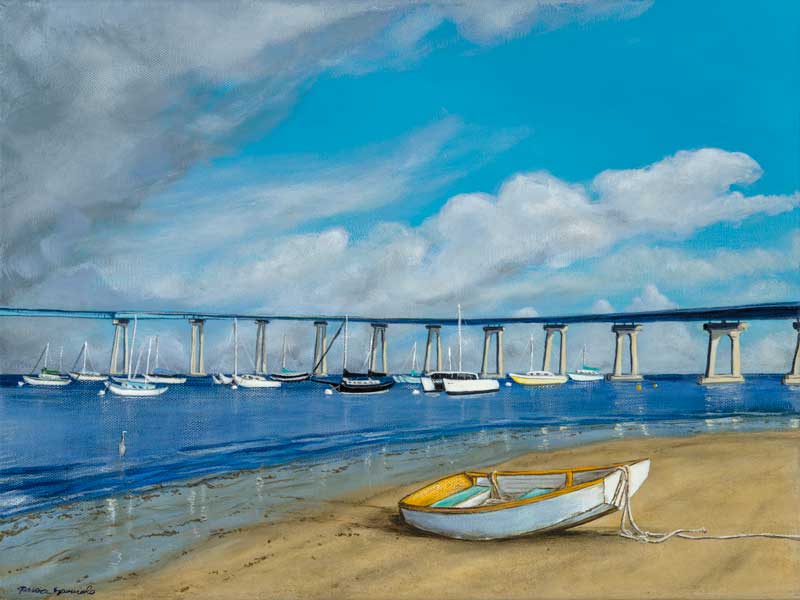 Bridge Over the Bay
Have you ever felt like you wanted to move on from a creative endeavor? Perhaps it wasn't fun any longer. Maybe you forgot about it, or you were following someone else's expectations. Could it be that you don't need to walk away from a creative passion? Maybe it just needs re-configuring.
Of course, I'm talking about myself. I have enjoyed painting for most of my life. For the last two years, I nearly put it away. My passion for painting waned. I started wondering who I was painting for. Just wondering about that allowed room for another question. What would I like to try next?
I am not through with painting, but I am experimenting with new methods and subject matter. What got me going again? I had an idea: bring in a few friends for an art collaboration. Not a contest, just a fun way to restart and share our individual creativity. Here is the outline:
1. Invite 3 friends to join the activity - or more if you like. These friends can live anywhere.
2. Decide upon 2-4 weeks for each collaboration. Participants take turns sharing an image or subject to paint. (For example, a landscape, etc. or 'a repeating pattern/flowers/abstract of your choice.')
3. Each person can paint, draw, collage, pastel or use any medium to create the given subject. There are no rules. This is about being creative and having fun! The canvas can be paper, cardboard, canvas or whatever is on hand.
4. When everyone has completed their piece, they photograph of their art. At the end of the time period, photos are sent to everyone or just to one person who will put them together and share. Each person describes their method. We 'oooh' and 'ahhh' over each other's artwork. It sparks new ideas for the group. Participants can zoom or FT instead. If you can paint together, that is fun, too.
The beauty of this outline is that it works for any creative avenue. For example: Do you like to write poetry? Take photographs? Sew? Pen short stories? Make jewelry? Quilt? Create ceramic pieces? Arrange flowers? Bake or invent recipes? You can start as many different groups/subjects as you like.
Expanding our creativity helps us let go of the stresses of this shifting world. Sharing projects with friends is a wonderful way to get to know each other more deeply. We humans are limitless in what we can create. Go for it!
Thanks for reading my blog. Take care of yourselves and each other,
Teresa