World Oceans Day 2017
May 20, 2017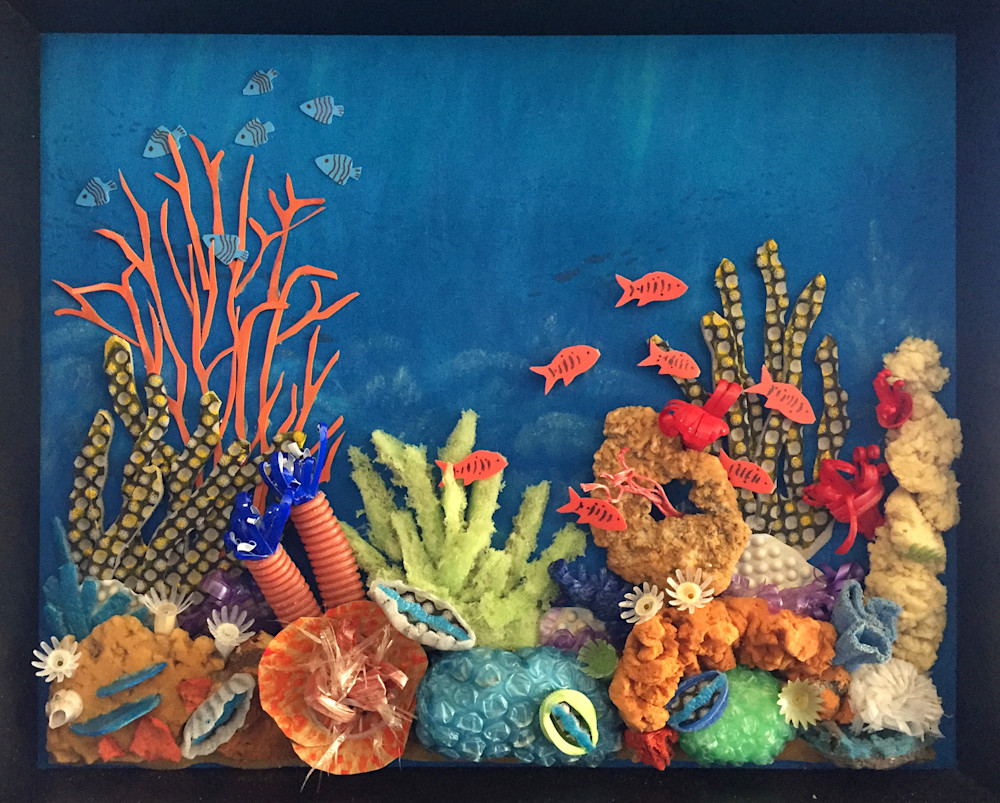 Beach Trash Reef
If you have read my earlier blogs, you know that sometimes I have opportunities to teach children about the ocean through art. Using beach trash and recycled plastics, I create ocean-themed artwork - a whale, a wave, a reef, etc - and the kids have a hand in making it as they learn about the state of the oceans.
Earlier this year, Clare Pister, the Community Engagement Manager of our local San Diego public broadcasting station KPBS, asked me to do just that - create an art project which focuses on ocean education for children. In this case, the Jim Henson Company spearheaded the year-long educational project to coincide with their children's animated TV series Splash & Bubbles. I was invited to be part of a 3 person team which includes Clare, fearless leader of the project, David Kline, UCSD professor of marine biology, reef expert and filmmaker, and myself, with the support of KPBS and the Jim Henson Company. Between our team and our aquarium partners, we have a plan for World Ocean's Day and Ocean Friends Forever, a fun and educational event to be held at the Birch Aquarium in La Jolla CA June 3rd. Come on down if you are in the area - there will be lots of hands-on activities for the kids of all ages.
The theme for World Ocean's Day 2017 is the problem of plastics in the ocean. There are a lot of great marine debris artists who create fantastic art that helps us become more aware of the ocean pollution problem. My art project will have two parts: One will be a hanging 3-D kelp forest for children and their parents to 'swim' through, and the other will be a 3-D reef mural made from marine debris and used recycled plastics. At the event, children will add up-cycled fish to the mural.
Here is an article about the state of our oceans, particularly the problem of plastics. And it's easy to find more information on the internet.
I enjoy teaching children about the oceans and sharing information about the plastic problem, but our children did not create it and should not not to be saddled with solving it. Ocean pollution is a global issue that must be addressed by every nation. As an eternal optimist, I know it can be done.
Thanks for reading my blog,
~Teresa
---